Why Bonstone?
For 60 years, Bonstone has produced the stone industry's most trusted products for laminating, seaming, rodding, repairing/patching, bonding, sealing, crack repair, anchoring and more!  Our adhesives, epoxies and patching systems are available for both interior and exterior use on substrates such as: concrete, granite, limestone, marble, natural stone & more.   Whether you're restoring a historical monument or fabricating a granite countertop, we've got the right product for your application.
Bonstone proudly serves the stone communities, including:
• Masons/Masonry Contractors
• Stone Fabricators
• Architects
• Engineers
• Residential Contractors
• Renovators
• Tile Contractors
• Countertop Specialists
• Hardscape Contractors
• And many more!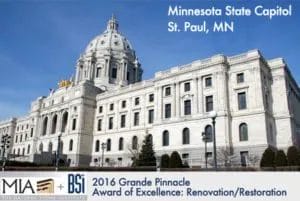 Monumental Results!
Bonstone epoxy, adhesive and other products have been used on a variety of important national monuments and corporate headquarters across the United States.
• Old Soldier's Home (Washington, D.C.)
• Minnesota State Capitol (St. Paul, MN)
• Long Fellow Bridge (Boston, MA)
• Wisconsin State Capitol (Madison, WI)
• Primary Children's Medical Center (Salt Lake City, Utah)
• Washington Monument (Washington, D.C.)
• George Bush Library (Houston, TX)
• Empire State Building (New York, NY)
• St. Louis Court House (St. Louis, MO)
• Kansas State Capitol (Topeka, KS)