Bonstone Named 2016 Pinnacle Award Winner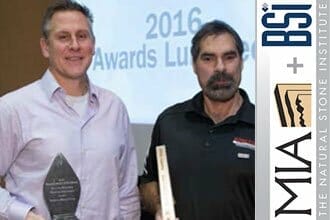 Bonstone Materials Corporation is pleased to announce that it was chosen by MIA+BSI: The Natural Stone Institute as a 2016 Pinnacle Award Winner.
The 2016 Pinnacle Award of Excellence for Renovation/Restoration was given to Bonstone's President Mike Beckmann, (right) and Sales Director Paul Klees at the MIA+BSI Awards Luncheon in Las Vegas on on Jan. 31, 2017. It recognized the use of Bonstone products as part of a complex restoration of Minnesota's State Capitol.
In its official press release, MIA+BSI wrote:
"The Minnesota State Capitol restoration is one of the largest and most complex restoration projects in the United States. The project architects used the same White Georgia marble selected by the building's first architect, Cass Gilbert, 115 years ago.
Success in communication between all stone team members resulted in less than a 1% fabrication error rate and kept the stone schedule on time and within budget. The Pinnacle Award judges commented that 'the number of disciplines working together on this project is exemplary and shows overall quality throughout.' They called the project 'a monumental task accomplished with great skill and teamwork.'"
About the Project
The Minnesota State Capitol Restoration Project is the "first comprehensive preservation of the Capitol building since its original construction in 1905," according to the project's official website.
The goals of the project, which began in 2013, include addressing:
Crumbling exterior marble and stone
Life-safety concerns
Antiquated mechanical, electric and plumbing systems
Inefficient and cumbersome spaces for the public.
Once completed at the end of 2017, it will prepare the building for the next 100 years.