[sv_image_content image="4384″][/sv_image_content]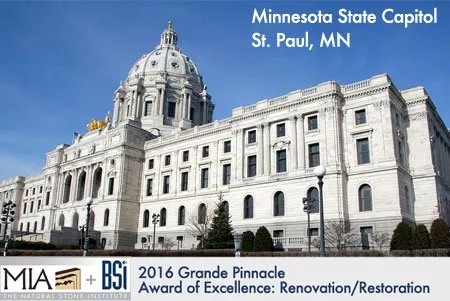 It's quite humbling to know that Bonstone products continue to be relied upon for the restoration of key landmarks and monuments throughout the United States. From The White House to the Wisconsin State Capitol, contractors know that our stone adhesives, epoxies and crack repair products get the job done, while ensuring that the architectural integrity of key public structures isn't compromised in the process.
Our commitment to quality was even recognized by The Natural Stone Institute, which awarded Bonstone the 2016 Grande Pinnacle Award of Excellence for the use of our products on the restoration on the Minnesota State Capitol in St. Paul.
Need Assistance? We're Here to Help!
Whether your restoring a headstone or a capitol dome, our professional staff is ready to provide you with technical assistance and to direct you to the right products for your restoration project. If you have any questions, please feel free to contact us online or at (800) 425-2214.
[sv_product_category style="home-11″ cat="monuments-cemeteries" orderby="title" order="ASC" type_home7="newarrival" number="50″ cat_number="10″][/sv_product_category]